I'm addicted to scarfs. I'm getting sick if I don't wear one. Actually, if I'm one day dropping to wear a scarf, I'm pretty sure I will be getting a cold. Therfore I wear scarf everyday from September to April. I've counted my scarfs, and the amount is 25!
In my opinion, a scarf can do the whole outfit. Put on a colourful or personal scarf and the outfit looks much more personal and funny. You look more "living" with a colourful scarf, if you know what I mean.
For me, a everyday scarf is necsessary. But a lot of people wear a scarf just because it completes the outfit. I like that! Instead of putting on loads of rings/earrings/necklaces etc. All you can do is to put on a scarf...
...like beautiful Audrey Hepburn (again!). She wears this white scarf around her head, and it looks so classic!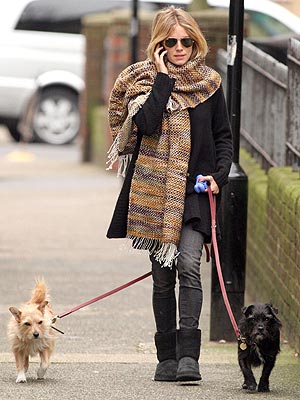 Sienna Miller with a huge and cool scafs. It surely keeps the cold wind away!
Now it's a new season, and time to add some new scarfs to my collection. These two from
Ruche
are just adorable, and I'm quite sure I will by one of them. I like the green one because it has these beautiful flowers on, and the grey scarf is so cool and stylish. Both of them has this vintage style which I love!